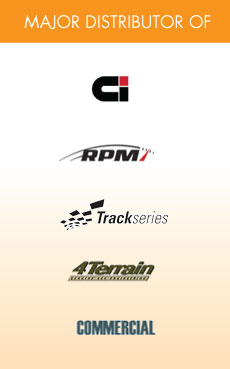 Clutch Industries
Overview
We actively manage our range to have the right clutch in the right place at the right time. New applications are identified, added to inventory and catalogued. Logical and progressive options have been created to upgrade your clutch system.
Our Engineering and Test capabilities, the only such facilities in Australia, are dedicated to ensuring that each option is the right clutch for our regions unique conditions.
A brief overview of our range is presented below. Once you have determined which option best suits your application, more detailed information is available by navigating to the brand that best suits your needs.
CI New Kits
The heart of the CI range is the New Clutch Kit. Designed and manufactured to replace the clutch system installed as Original Equipment, this range provides a Quality Assured replacement part that will meet or exceed the requirements of an original vehicle.
RPM Clutch Upgrade
It's a fact that some vehicles work harder than others. Engine modifications, Performance Driving Enthusiasts, Off Road Adventures, Towing, Trade work will all load a standard clutch system. If you expect more from your vehicle then it pays to upgrade your clutch system to cope with the higher loads. An RPM kit is our first level upgrade, giving you a 20% or more higher clamp load, and increased torque capacity, in most cases with minimal increase in pedal effort. The clutch can be upgraded further by specifying one of the clutch plate options available for the RPM Range.
Track Series    
The Track Series range has been developed by feeding back the elemental technology, accumulated through racing support, and applying that knowledge to road cars. Single, Twin, Triple and Quad Plate Clutch systems are available with each Clutch System selected by Clutch Industries for their high torque capacity, combined with flexibility and reliability for Street Cars, Circuit, Drift or Drag Racing Applications. Wins accredited to this product include four time Champion of the All Japan GT Championship ('98, '99, '01 and '02).
4Terrain   
Engineered specifically for the unique demands of 4×4 applications, 4Terrain Clutch Kits are a strong, durable and tough clutch while still retaining fine modulation and accurate pedal feel for navigating difficult terrain.
Commercial Clutch  
Long life, endurance, best economy – our commercial clutch products are selected to deliver the owner the lowest cost per kilometer over the life of the vehicle. This is achieved while also offering driver comfort.
Catalogue